Care for the next generation is what drives our NKCE Champion.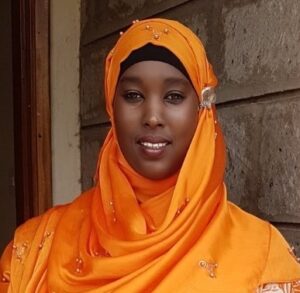 It's difficult to catch Nasri Ismael for a quiet conversation about her role at Repowering London. That's because our Community Champion for North Kensington Community Energy is rarely found sitting behind a desk. Or sitting still at all.
And it's fitting that it's to the background soundtrack of children loudly playing and people chatting that she explains her role at Repowering London. She's in just the place she needs to be to do her job well. "Sometimes I might be planning a meeting or sending an email," she says of her role. "But most of the time it means going somewhere, community mapping and getting around to other organisations. And if there is a community event, I am there holding my literature!"
As a Community Champion, Nasri's goal is to build connections with local groups to develop NKCE into a lively and vibrant co-op. She also hopes to inspire and engage the local community to take climate action in their area. On the day of this interview, she's at a community centre to talk to its manager about hosting an event about energy consumption. It's one of the many events she'll be arranging and leading across the year, giving people tips on how to save energy, cut energy bills, and practice 'Greener Living'. "With energy bills going up every few days, this will help, and we can also tell them about what other help is out there," she explains.
"I was thinking about my children and their future," she says when asked what brought her to Repowering London. "I enjoy being involved in something that will benefit future generations, save carbon emissions, and promote greener, healthier lifestyles."
"And engaging with the community is something I am passionate about," continues Nasri, "just having that vibrancy of meeting different people every day."
Yet for all her enthusiasm, she admits being a Community Champion can still be a challenge. "Many people don't know anything about community energy, so you really have to work hard. A lot of them feel that community solar doesn't affect them directly. They think: 'if it's not in my house, why get involved?' You try to help them to understand that the money we get after paying our solar co-op investors goes to a Community Fund and helps organisations in the community that benefit everyone."
A good day at work, she says, includes talking to people who start out with no understanding of community energy and seeing that they "get it". "They may not be ready to get involved yet, but at least they understand where you are coming from. You feel like they are accepting and willing to take part."
"A good day at work includes talking to people who start out with no understanding of community energy and seeing that they 'get it'"
So far, NKCE has installed 224kWP of solar capacity across five sites, including the Westway Sports Centre, reducing CO2 emissions by 46 tonnes every year. Its Community Fund will raise £70k for use in the local area.
It has also hosted Repowering London's Youth Training Programme and run workshops that teach people how to build solar panels. Nasri says people are very interested in learning how solar panels can affect their daily life, so she believes getting her messages across will be a bit easier when there is another hands-on, visible, solar project in the area. Because she got involved with Repowering London after the existing NKCE solar installations went in, Nasri is also looking forward to helping the next step to happen.
For the moment, though, her hands are more than full with Greener Living Days and other NKCE events, where she feels it is very important to have children involved: "We are building up the next generation."
What does her own next generation, her children, think of what she's doing? Often, she says, they are right there doing it with her. "My little girl is very well known in NKCE," she says with a laugh. "She gets involved, sometimes comes to meetings, and even gives out energy-saving tips. At her school she has even asked her teacher why they don't have solar panels."
What are Nasri's goals for the future? "Not everybody recognises me now, but I would like that," is her first, light-hearted answer. On a more serious note, she says: "I would like to raise more awareness about solar energy and make people understand it is not all about today – it is about the future and our children's future."
She also hopes to inspire more people to be involved, to volunteer and to accept that "a solar panel may not be on your roof, but if it is in the community near you, it will help you and the next generation one way or another, helping people lead a greener, fairer life."