Lambeth Community Solar is a borough-wide initiative to install community owned solar panels on schools and community buildings across Lambeth.
We launched in 2019, when we raised £137,000 through our community share offer to install solar panels on the Elmgreen and Norwood schools. We installed 83 kWp of solar panels on the Norwood school in October 2019 and will be installing 62 kWp of solar panels on the Elmgreen school in February 2020.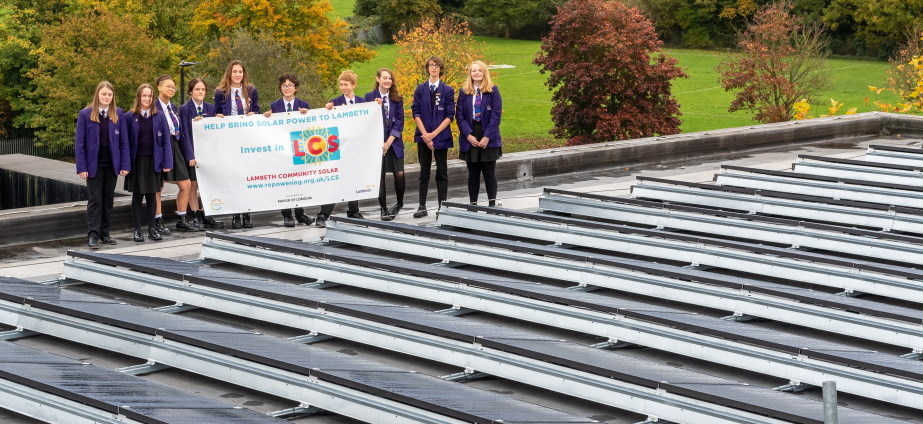 We have received funding from the Mayor of London to complete solar feasibility studies on three further schools in the Lambeth area – Holy Trinity C of E primary school, the Michael Tippett school and Rosendale Primary School.
As well as installing solar panels we will be working with the schools to deliver educational workshops and training opportunities.
Our projects support the Lambeth community by:
Fighting climate change
Helping schools save on their energy bills
Creating a Community Fund for local projects
Offering an ethical investment opportunitiy with an average 3% return for our members
The benefits to the community
£35,000 will be raised from the sale of electricity and spent within the local community
The schools will save £27,000 by purchasing cheap, clean electricity.
Repowering will run workshops for pupils that fit within the school curriculum
Parents, teachers and anyone in the community can invest in the project
The school buildings will lower their carbon footprint, saving 31 tonnes of CO2 each year
Our fuel poverty initiatives will reduce the energy bills of local people and alleviate hardship
The project will bring residents together in a fun and worthwhile cause
Lambeth Community Solar (LCS) is a Community Benefit Society, which is a type of co-op. LCS follows Repowering's award winning model which ensures that financial returns are locked into Lambeth and delivered back to the community, thereby delivering a truly socially responsible energy project. For more info on the Repowering model click here.
Once the solar panels are installed, the project generates an income through the sale of electricity, with help from a Government subsidy called the Feed-in-Tariff.
Shareholders automatically become members of the Community Benefit Society, they can vote and have a say in how the project is run. Local residents can become members for £1, rather than having to invest and everyone has the same vote.
Shareholders will receive annual interest payments on their investment, at approximately 3% per year. By purchasing shares in LCS, your money will be immediately invested locally, saving carbon emissions and bringing a wide range of benefits to the community.
Your capital is at risk when you invest, so never risk more than you can afford to lose. Prospective investors should be aware that the value of the shares  cannot go up, but can go down. Past performance is no guarantee of future performance. If you are in any doubt you should consult a financial adviser.
We are not currently accepting investment in Lambeth Community Solar. Pledge your support for future share offers using the button below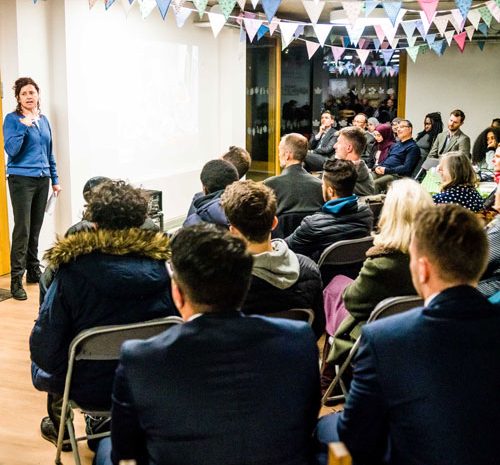 Full details on investing in Lambeth Community Solar, including our assesment of the risks involved.
Lambeth Community Solar is driven by our volunteers. We hold regular meetings that are open to all. Feel free to come to one of our meetings below, or drop Eva a line to find out more (020 3674 7519 / eva.goudouneix@repowering.org.uk)
JOIN THE
LAMBETH COMMUNITY SOLAR
MAILING LIST