We provide educational opportunities every time we facilitate a community energy scheme, and we also offer them as stand-alone services.
Our paid Youth Training programme is designed to empower young people aged 16 to 19 by giving them the practical skills and training to thrive in the green economy. Training is delivered over 30 sessions and is aimed at secondary school students, school leavers, the unemployed and those who want to work in the environmental or community sector.
The programme is aligned with Assessment and Qualifications Alliance (AQA) unit modules, meaning interns receive an AQA certificate when they successfully finish the programme. Our trainees develop skills in: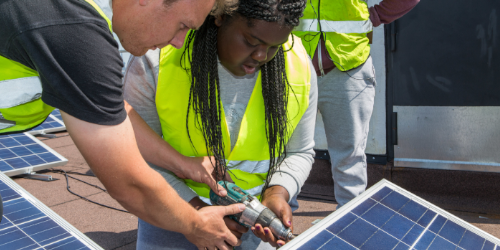 Low carbon & renewable technologies | Technical feasibility analysis | Solar system design | Solar panel making and installation
Energy efficiency | Community engagement | Co-operative business skills | CV writing and interview skills | Teamwork skills

We provide paid work experience opportunities for adults who want to learn new skills and find employment in the renewables sector. We also provide mentoring for local people wishing to learn about clean energy.
Primary Schools programme
Our primary schools programme has been created to discuss the topic of climate change in an age appropriate way with young children. Designed by a Key Stage 2 teacher to integrate with the National Curriculum, ReCreate is delivered over five sessions, either in a single week or across a half-term period.
ReCreate uses drama facilitators to engage pupils with the local and global effects of climate change, while showcasing existing technological and social solutions. We support students to feel positive about the future and encourage them to actively engage in creating positive change.
Solar panel making workshops
We run solar panel making workshops for children and adults. The workshops demonstrate the theory and practical steps in making a simple 12V DC solar panel, using easily available components. These kits generate enough power to charge a phone or tablet and assembling them is a great group exercise.
By completing one of our workshops you will learn:
Basic electrical skills | How to construct portable solar PV panels | How to test your PV panel
How to connect componets to enable charging | About energy in the UK and possible solutions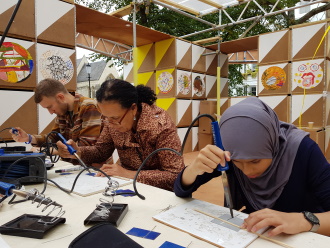 We offer companies the opportunity to create a positive social impact with half and full day workshops. Our hands on sessions are centred around biodiversity, sustainability and renewable energy.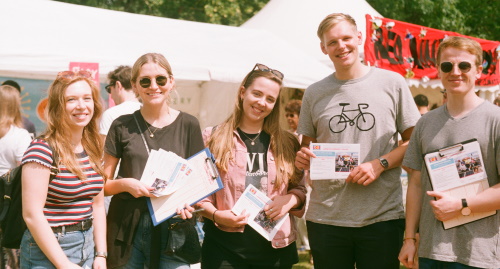 If you're interested in hosting or joining a training programme, or want to discuss corporate activities, please contact Afsheen Rashid to find out more.