You might not think that the local community can have a say in how major energy systems are designed, but you'd be wrong! Find out how Islington residents are helping to shape the GreenSCIES project.
What is GreenSCIES?
The Green Smart Community Integrated Energy System (GreenSCIES) is a new way to supply heat and power to buildings using renewable and alternative energy sources. Excess heat produced by the Tube and computer data centres will be sent to solar-powered heat pumps to increase its temperature, and then supplied to nearby homes and businesses.  The New River Scheme is the first design of the GreenSCIES initiative; it will be located in the Angel area of Islington and include 3 different housing estates. By switching away from traditional gas burners, the project will significantly reduce carbon emissions and improve local air quality.
Community Engagement
GreenSCIES is a collaboration with numerous different organisations, including architects and engineers, local government, and us! Our role is to ensure that the community is part of the project and helping to co-design it. We are actively seeking the input of the local community members, and particularly the people who live in the housing estates that would be part of the New River project. We've been hosting meetings (both in person and remotely) over the past year to inform the community about the project and get their feedback. Each of those discussions has been extremely helpful to the design and implementation of this project.
Lessons Learnt: How to Engage
One of the first things we learned in this process was how to best interact with this diverse community. Each of the three housing estates has hundreds of residents, coming from vastly different backgrounds. Initially, we held 6 online workshops that were attended by many Islington residents with an interest in energy issues and comfort with the online interface. Those sessions were helpful, but we wanted to reach more of the community.
In Islington, more than 1 in 10 households live in fuel poverty, and many more residents worry about their energy bills, especially in the winter. This led us to run our first "Stay Warm & Well" workshop. These workshops provide tips and advice on energy bills and usage and have already been delivered successfully by Repowering London in Lambeth for years. We partnered with the Galbur Foundation, a charity empowering young and vulnerable Islington residents that is well connected to the local Somali community. Working together, we held our first workshop for Somali and Arabic-speaking Islington residents that included advice on energy costs as well as an overview of the GreenSCIES initiative and how it would affect them.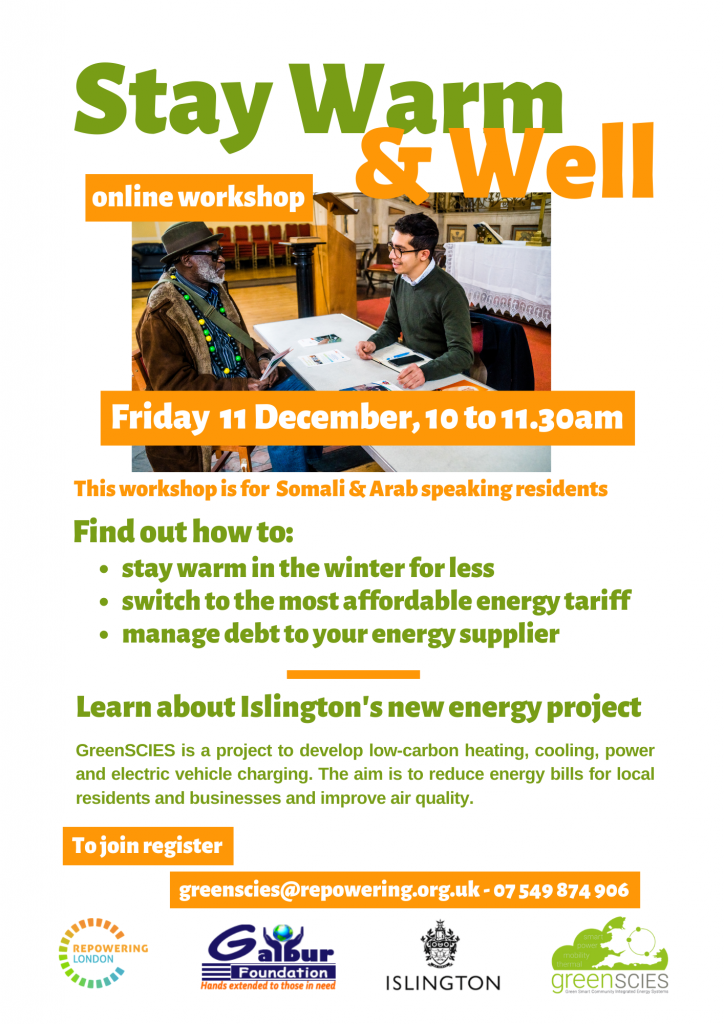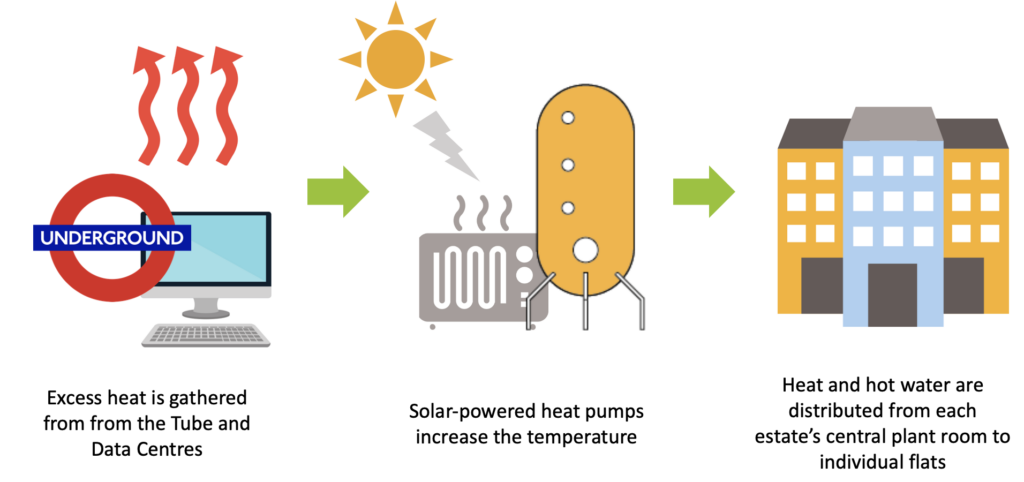 The interactions have also helped us hone our communications strategy. They have helped us develop materials that strike the right balance of detail, providing important information that residents care about in a clear and concise way. We've received helpful tips about who else we should be talking and working with, ensuring that we reach everyone who is interested in the project. Based on these interactions, we are using a variety of engagement approaches to make sure we reach everyone. 
Lessons Learnt: Options for Design
Whilst the technical components of the system are finetuned to make sure that they will work effectively and in a cost-effective manner, there are a number of components of the design that are flexible. For example, the system will require a water storage tank to store the hot water as it is heated by the solar-powered heat pumps. While the size and location of the tank are dictated by the system requirements, the outside appearance is not. Residents gave us feedback about how they would like to appear, whether to cover it in cladding or greenery for a more attractive appearance.
Lessons Learnt: Existing Problems
One of the most interesting developments from the engagements has been how this project could provide unintended positive consequences by potentially fixing existing problems within the building. For example, we learned that heat in the housing estates is currently limited to only half of the year and certain hours of the day, which doesn't give residents the ability to stay warm in a cold spell. Because the heat source for GreenSCIES is constant, it should be possible to provide heat to the residents all year round. We also learned that the water pressure decreases on the higher floors of these tall buildings, which can be problematic for the residents. The design for GreenSCIES relies on using the existing pipework to carry heat and hot water from the central heating room up to the individual flats, but we are exploring options to see if upgrades could be made to improve water pressure as part of the project. If possible, the GreenSCIES design could have the added benefit of fixing these existing problems and improving the quality of life for the residents.
We take our role as the community engagement team seriously. We're not just ticking the box, but really making an effort to reach out to the community to get their feedback, and incorporate it back into the design. We want GreenSCIES to not only achieve its ambitious climate goals, but to best reflect the needs and interests of the community where it will be located.
Click here to learn more about GreenSCIES. If you are a resident of Islington and want to get involved, please contact us at info@repowering.org.uk.