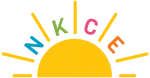 NORTH KENSINGTON
COMMUNITY ENERGY
New project: Westway Sports Centre
Following the successful installation of 83 kWp of solar panels on Avondale Park Primary School, Thomas Jones Primary School and the Dalgarno Community Centre, North Kensington Community Energy are continuing our work in the borough. Working with the Westway Trust we are planning to install 138 kWp of solar panels on the Westway Sports Centre in spring 2020.
These solar panels will save up to 28 tonnes of CO2 a year from being pumped into the atmosphere while creating a community fund for local projects.
North Kensington Community Energy, Repowering London and the Westway Trust have been working in partnership to develop this project and offer free workshops for young people in the borough. The project has been developed by Repowering London and the Royal Borough of Kensington and Chelsea Climate Change Team, with the support of the RBKC Council Leadership.
We aim to make Kensington and Chelsea a leader in community energy and help the transition to a net-zero future. If you would like to get involved, please complete the form by clicking the button below.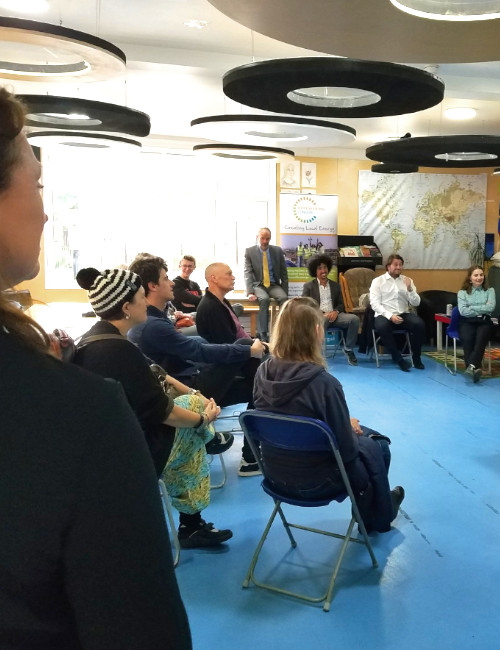 The benefits to the community
A community benefit society is set up which runs the project and also serves as the vehicle through which funds are raised. Community benefit societies are legal entities whose statutory purpose is to serve the broader interests of the community. By using this model we ensure that financial returns are locked into the borough, delivered back to the community, thereby delivering a truly socially responsible energy project.
Local residents, businesses, councils and other stakeholders can invest in the society by purchasing shares and becoming shareholders and members. The society is run by its members and a board of directors who come from the local community. Governance of the society is truly democratic as each member has one vote, regardless of the amount they invest.
The funds raised through the shares allows the society to buy and install renewable energy assets (solar panels) and provides an income stream. Shareholders receive a competitive return on their investment in the range of 3-4% per annum. After meeting core costs and investor returns, surplus income is ring-fenced to be spent within the community.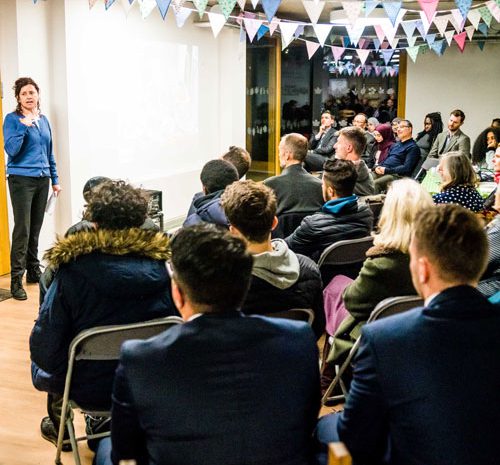 NKCE currently has 4 voluntary directors. Their role is to ensure the Community Benefit Society is running well and support its development. If you have a specific question for one of the Directors, you can contact them by clicking on their picture.
We are seeking new members to join the director team at our first AGM, taking place in summer 2020. If you're interested in taking on a leadership role in the climate crisis and becoming a Director of NKCE, please email info@repowering.org.uk. You can find more information about the role of a co-op Director here.
Volunteers and directors hold regular meetings to develop NKCE. We have defined a set of values to make decisions and work together effectively:
Be positive
Be respectful
Speak succinctly and let everyone have their say
Agree by consensus
Be responsible for actions you agreed to undertake and be honest if you find you can't fulfil them or need to ask for help
Listen to hear
Felix is Repowering's Technical Director and leads on Repowering's technical development and emerging
business models. These include the application of new energy storage technologies, the deployment of remote metering and monitoring on our existing projects, and the development of new electricity supply arrangements that would put more power into the hands of local communities.
Dave is Project Manager at Repowering, community organiser and activist. As the project manager for NKCE, Dave has been
working with local schools to develop educational workshops on energy efficiency and renewable power, as well as delivering the NKCE Community Energy Training Programme.
Afsheen is Repowering's Co-Founder/Co-CEO. Afsheen sits as Chair of the Brixton Energy Solar Co-operatives, the UK's first inner-city community-owned solar power stations; is Chair of Community Energy England and remains influential in both local and national community energy decision making.
Toby is a community artist, designer, educator and organiser from West London. He has designed and delivered over 60 community-based art and design projects across North Kensington since 2005. He was a market trader on Portobello for almost ten years, a local primary school governor for eight years and a recent trustee for a local community transport provider.