We've just celebrated a significant landmark for community energy in Newham
Community Energy Newham (CEN) has completed its first solar installations, which will begin to provide clean, low-carbon and lower-cost energy in the borough. Solar panels have been installed on two sites: East Ham Library and Beckton Globe Library. The group is set to add another solar array at Stratford Library in the coming months. CEN is already in the process of investigating additional sites in the borough at which it hopes to install further solar arrays, focusing on schools and leisure centres. Taken together, the group's planned installations have the potential to generate 2MW of solar energy capacity – enough to power about 620 London homes. *
CEN is one of nine community energy co-operatives currently supported by Repowering London, which has been seeding solar energy projects in London for 10 years. Following a model developed by Repowering London, CEN is volunteer-led and profits generated through the sale of its energy will be fed back into local projects through a Community Fund. A Community Share Offer will be launched early next year and will be an opportunity for borough residents to invest in CEN and hold an active stake in its locally generated, renewable energy.
Newham Council has been a key partner in the project, helping to find potential sites across the borough and creating bridges between CEN and key stakeholders.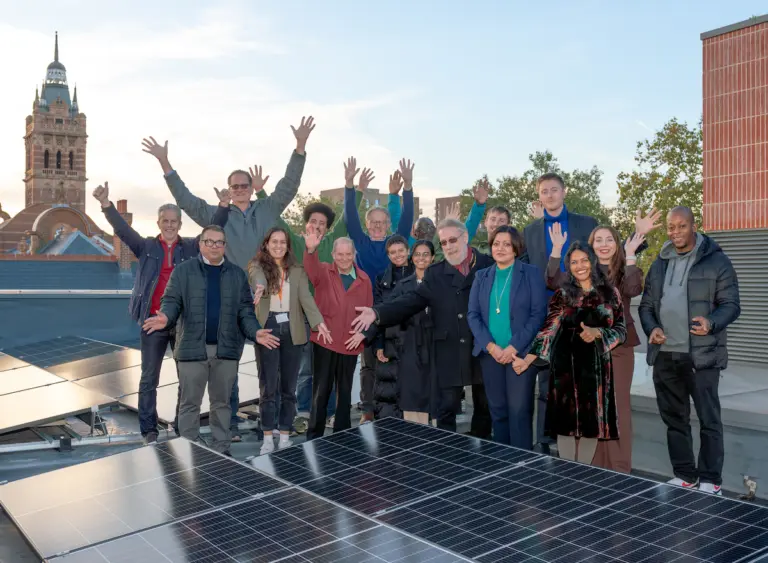 A funding first
The installations were funded with the support of The Mayor of London and the London Legacy Development Corporation, and CEN is the first community energy group to benefit from Repowering Communities, a new asset-locked Community Benefit Society created by Repowering London to increase the speed and scale at which community-owned solar power can be installed.
Repowering Communities is providing the finance to install and de-risk the project(s), allowing CEN to purchase the solar assets over time and according to its own fundraising schedule. This also removes the need for CEN to raise the projected installation costs of £137k all at once, allowing it to hold more inclusive and open share offers that allow the greatest number of Newham residents to take ownership of and benefit from the installation of renewable energy assets.
The development of CEN and Repowering Communities both support Repowering London's goal of installing an additional 5MW of community-owned energy in London over the next five years. Repowering London has recently launched a 'London Solar City' campaign (#LondonSolarCity), which aims to inspire more Londoners to take an active role in creating a clean, fair energy future for London through involvement with community-owned solar energy.
*Calculation based on: The average amount of electricity generated by a Repowering London project in a given year; and Ofgem's estimate of the amount of electricity used annually by a typical household in England, Scotland, and Wales.