Our Low Carbon Development Officer is looking for property owners with a passion for improving their buildings' energy performance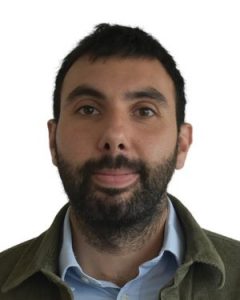 "If there has been a consistent theme of my career, it is that it has always involved mobilising stakeholders around a cause. There has always been a partnership-building or stakeholder-building aspect," says Omar Al-Amin, Repowering London's Low Carbon Development Officer. "I've also always been attracted to trying new ideas and interested in community ownership. In that sense Repowering London is the perfect organisation for me."
Raised in Manchester by an English mum and Iraqi dad, Omar studied politics at university and then did a Masters in diplomacy. Over time, however, he says politics began to seem "a bit murky." So he decided to apply what he had learned to work in social and economic development.
After spending three years in Cairo working for Ashoka, an NGO that supports social entrepreneurs, Omar moved back to Manchester. He found a role at Sunday Assembly, an organisation that uses the community-building tools of religions, but in a completely secular way. Next came a move to London to work at Dot Dot Dot, a property guardianship social enterprise. There his task was to build partnerships with property owners, agreeing with them a scope of works to bring their empty properties up to standard so the buildings could provide temporary housing, rather than just sit empty. When it came to applying for his current role, the skills he had gained were just what Repowering London was looking for.  
Targeting property owners
That's because Omar's focus at Repowering London is to get property owners and landlords on the road with energy-saving retrofitting, as part of our goal to push forward London's transition to a low-carbon economy.
If Repowering London is impatient to realise that goal, for property owners the clock is also ticking. The Government's Heat and Buildings Strategy has proposed an end to gas boilers in new-builds for 2025, with the aim to phase out installation of gas boilers entirely from 2035. In addition, if we are to achieve the UK Government's net-zero ambitions, we need to improve the energy efficiency of our buildings and reduce demand for energy consumption. For owners of older buildings, the answer will be retrofitting – upgrading building fabrics (for example, installing insulation, upgrading windows to double or triple glazing, and improving ventilation), moving to low-carbon heating sources, and installing new Green technologies where that is viable.
With retrofit information scarce, sometimes contradictory and confusing, he knows there is a steep hill to climb to demonstrate what is possible. Here, Repowering London's role will be to facilitate and enable solutions, so that people and communities are empowered to benefit from warmer, more comfortable homes and cheaper energy bills. Given the costs and potential upheaval involved in retrofitting a home or building, there is a need for a trusted advisor and guide to help move through the whole process. To do this, says Omar: "We need to engage and work with local people, communities, property owners and landlords, the supply chain, finance providers and regulatory bodies, to develop approaches, solutions and financing models that actually provide the desired benefits."
Creating new tools
Omar believes most people recognise that increasing energy efficiency in buildings is a good thing, but that they also see it as very expensive. And they might be unsure that of what the actual benefits are of making the necessary investment or how to get started.
To level off at least one part of the learning curve, Omar has been involved in the creation and launch of a retrofit 'Toolkit' for leaseholders and property managers of privately owned blocks of flats. To put together the resource, Repowering London worked with the GLA, MCS Foundation and Future Climate, with the aim of plugging a recognised resource gap. "There's a lot of support and guidance for street-level properties, and for social housing properties, but if you own or lease a flat there's not really much information out there for you," he explains.
"Our city can't meet its net-zero targets without retrofitting shared blocks with low-carbon solutions that improve their energy performance"
Yet because roughly half of London homes are flats, our city can't meet its net-zero targets without retrofitting these shared blocks with low-carbon solutions that improve their energy performance. The new guide hopes to encourage a whole-building approach, which is the most technically and cost-effective way of delivering lower-carbon retrofit.
There is, of course, much more to do. For example: "We need to have possible solutions for difficult-to-retrofit properties – which are still quite early in their development." But Omar is excited to be part of the effort and doesn't feel he is going it alone. "There are definitely citizens, property owners, and people in the property industry that are passionate about this. There are even property owners willing to take a financial hit to be involved in the movement. So, the goal is to find them, harness that passion and say: 'These are the options and let's go through them together'. I definitely think that's the role that Repowering London, and I, can play."
Are you a property owner looking for retrofit advice? Contact Omar for more information on the new retrofit toolkit and how it can help.