CITY OF LONDON
COMMUNITY
ENERGY
Repowering is delighted to be developing the first ever community-owned solar project in the City of London. Working with local people and the City of London Corporation, the plan is to install solar panels on rooftops in the Middlesex Street Estate in the Portsoken ward.
A feasibility study indicated that the site has capacity for a 50kW solar array, costing £48,000 to install. Funding for the project will primarily be raised by selling shares in the project to community members. These funds will be boosted by additional sources such as  carbon offset schemes and donations from corporations as part of their corporate social responsibility strategies.
It is estimated that 80% of the electricity generated will be sold to the City of London Corporation to power the site's communal areas. The remaining energy will be sold to a licensed energy supplier to be used off-site.
A £10,000 grant has already been secured from the City of London Corporation's Stronger Communities Fund, which will be used to develop the project over the next 12 months and engage local people. Repowering is now taking the project forward by commissioning a structural survey, doing the legal groundwork and engaging the  community.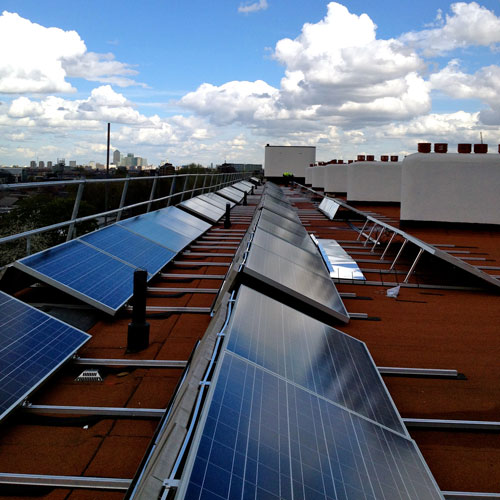 The benefits to the community
An estimated £10,000 will be raised from the sale of electricity and spent within the local community
The local council will receive cheap, clean electricity and a reduction in their electirity bill
Training will be offered to young people, giving them valuable skills for the future
Local residents and anyone in the community can invest in the project
C02 emissions will be reduced by 20 tonnes a year – a total of 400 tonnes over project's life time
Our fuel poverty initiatives will reduce the energy bills of local people and alleviate hardship
The project will bring residents together in a fun and worthwhile cause
A community benefit society is set up which runs the project and also serves as the vehicle through which funds are raised. Community benefit societies are legal entities whose statutory purpose is to serve the broader interests of the community. By using this model we ensure that financial returns are locked into Lambeth,delivered back to the community, thereby delivering a truly socially responsible energy project.
Local residents, businesses, councils and other stakeholders can invest in the society by purchasing shares and becoming shareholders and members. The society is run by its members and a board of directors who come from the local community. Governance of the society is truly democratic as each member has one vote, regardless of the amount they invest.
The funds raised through the shares allows the society to buy and install renewable energy assets (solar panels) and provides an income stream. Shareholders receive a competitive return on their investment in the range of 3-4% per annum. After meeting core costs and investor returns, surplus income is ring-fenced to be spent within the community.