Turning to trees
What does the modern city centre of Singapore have in common with the recent World Expo held in Dubai? Both have been a showcase for groves of 'solar trees'  (Singapore's installation is our main image, above) which help provide sustainable energy in the form of impressive and innovative urban architecture. And these types of structures are set to become much more common if companies like UK-based SolarBotanic™ Trees has anything to say about it. It is marketing a range of small-scale "Energy Trees" that it says can power a neighbourhood grid or provide charging stations for EV car parking. Currently in the funding phase, the company plans to launch a version fit for rapid EV charging by 2024. The company is also targeting recreational areas and public spaces as potential homes for its future forests.
Teaming up on a solar textile
Dutch designer Pauline van Dongen and design and engineering consultancy Tentech have teamed up to develop a lightweight, woven product called Suntex, which has the potential to be used in outdoor canopies or even added onto facades of high-rise buildings. It is produced by weaving thin-film organic photovoltaic panels into a flexible textile. As the designer's website explains, a trial on a major building in Utrecht "has shown that SUNTEX, installed on three of the four facades, could power the entire lighting of the building year-round". In addition to the core benefit of harvesting solar energy, the designer notes that the integration of the product into urban buildings "can increase social awareness and acceptance of solar energy around us".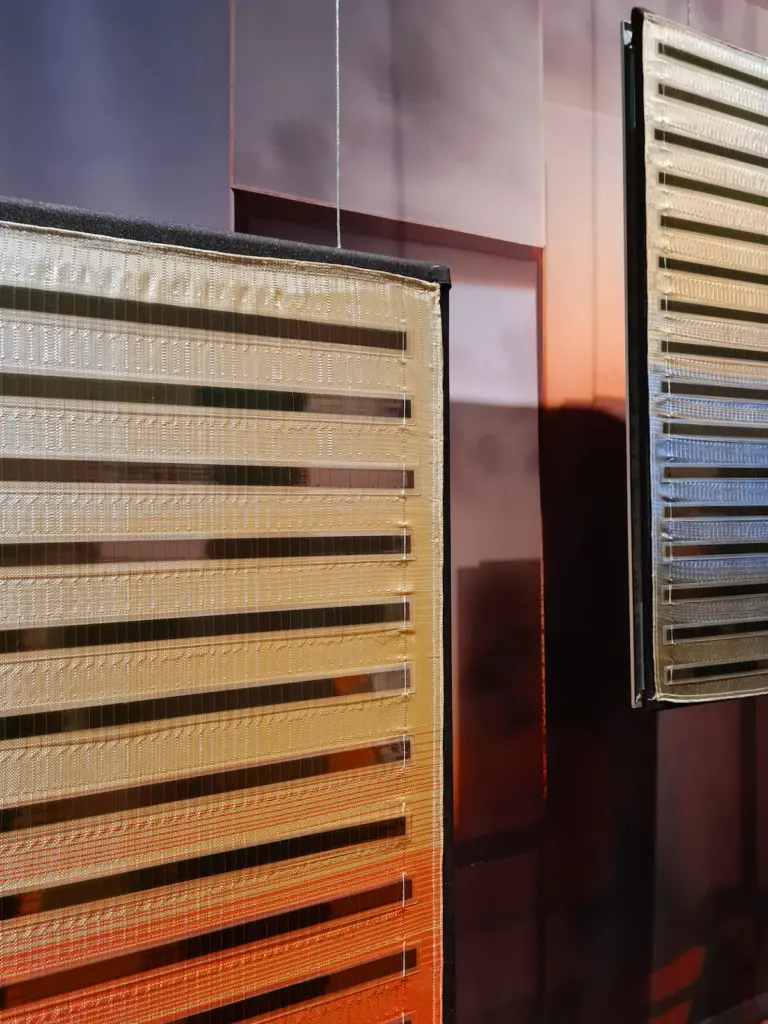 Furnishing new energy
Germany firm Fraunhofer ISE has made urban photovoltaics one of its key areas of focus with a view to helping cities benefit from energy created by necessary urban furniture, for instance from solar canopies in car parks and public areas. It believes these can offer a win-win, giving shade during the increasingly hot days and lighting our cities at night.
Meanwhile, a new generation of solar-powered benches are on the way, for instance in the form of the Woody Scorpio from mmcité. This attractive wood and steel bench incorporates a PV panel that powers charging points on its side. The range includes other products, incorporating roofs for shade that hold PV panels, and outdoor tables with a USB-charging option.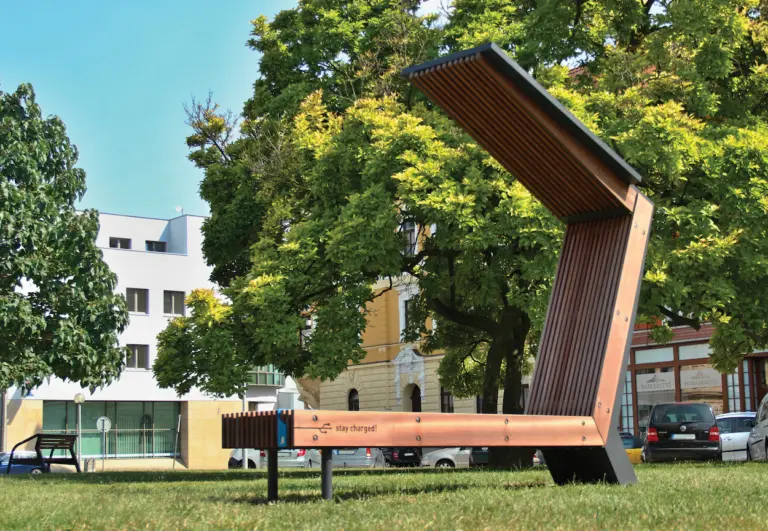 Fun-filled flooring
For the fun quotient, we have to turn to Energy Floors, another Dutch firm whose products really do just what it says on the tin. The company has been behind the creation of sustainable football pitches, dancefloors, and has even generated energy from the feet of Dutch football fans at one of the country's largest stadiums. Driven by a mission "to speed up the energy transition by creating awareness about renewable energy in exciting ways", the company wants to make energy production "visible, interactive, smart and fun". Recently, the company supplied floors for "Energy Centres" on Coldplay's Music of the Spheres World Tour, on which fans generated energy to help power the concerts using kinetic tiles and stationary bikes. Energy Floors' 'Walker' floors can generate up 100 watts per square metre of solar energy and can be installed in building entrances – including at car parks, train stations and other high-traffic areas – providing solar energy, for example, to power parked e-bikes.
Technology turned art
Solar designer Marjan van Aubel has admitted to asking herself : "Why do solar panels have to be so ugly" and has set out to make them better integrated into our environment, seeing "every surface as an opportunity". For example, for the Dubai Expo 2020, van Aubel worked with architects to debut The Dutch Biotope, which offered a demonstration of technology turned art. Van Aubel created an installation that showed how photovoltaics can be used to create panels that give a similar effect to stained glass. Importantly for the creator also, the panels used in the Biotape make use of organic photovoltaics, which reduce reliance on rare materials and can increase products' sustainability and circularity. As she told Dezeen in October 2021, she hoped the installation changed people's perspective on what is possible in terms of solar integration. Other projects van Aubel has been developing include "Power Plants", solar-powered greenhouses that could allow crops to grow on city rooftops using solar glass, and she has already shown how such glass can be a beautiful addition to even older architectures with her 'Current Window' installation in a building in London's Soho district. That project, which earned her the Wired Innovation Award in 2016, featured glass panels made of dye-sensitive solar cells that provided an attractive place to charge personal devices.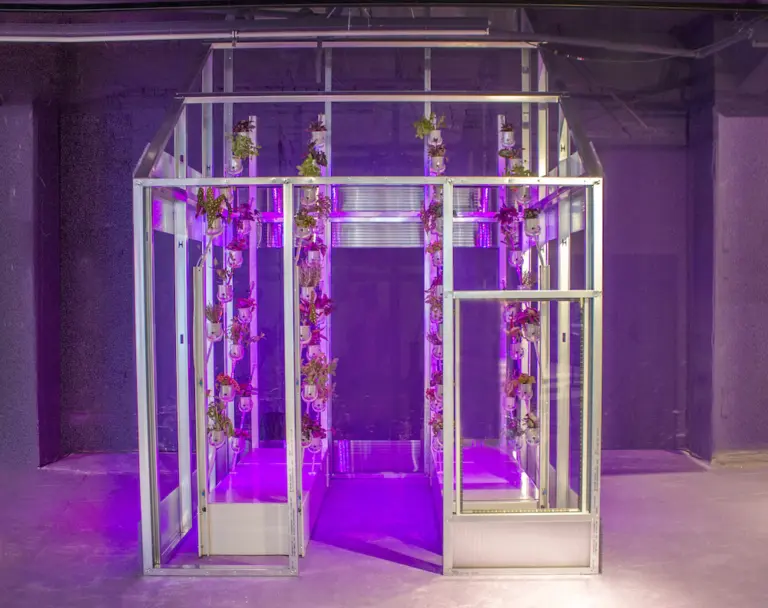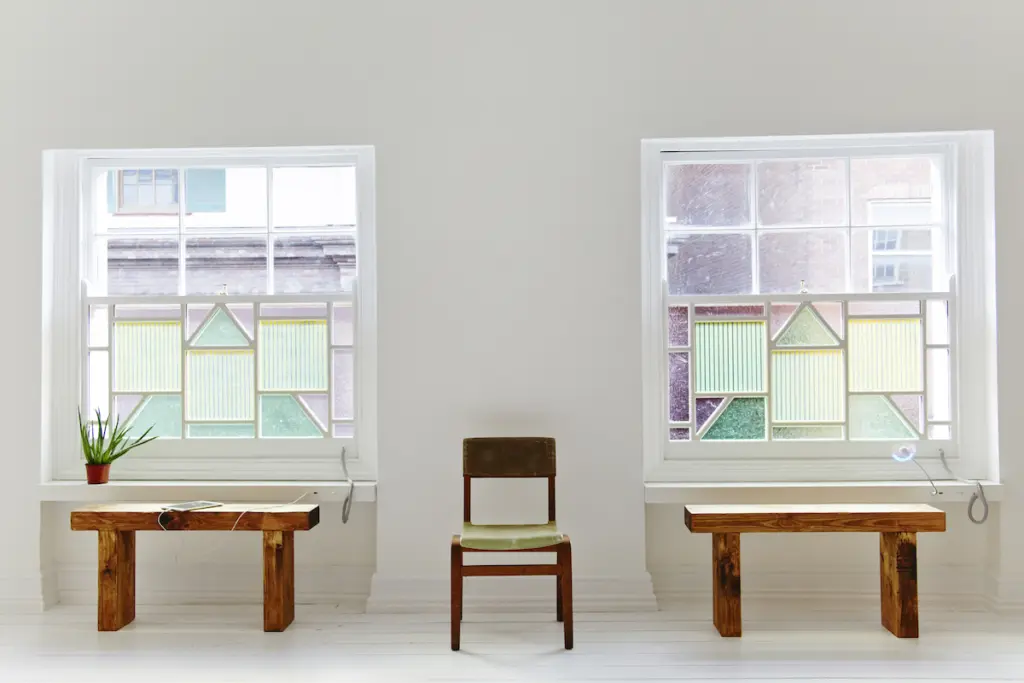 Are you feeling inspired?
If all of these urban solar solutions sound good – great! We hope that talking about this kind of innovative and creative thinking will inspire everyone to imagine a solar-powered future for London and embolden a generation of Solar Citizens. When it comes to creating a greener, fairer energy future, the answers are out there – but it will take all of us to make it happen.
Please note: Inclusion of products in this blog is not an endorsement or recommendation by Repowering London