What is community energy?
Community energy schemes include the generation, storage, efficiency or demand reduction of renewable energy and are lead by community members to benefit the local area. These can feature wind and solar power, but also heat, electric cars, and also initiatives like energy advice, retrofitting and battery deployment.
Community energy is now responsible for 121MW of generating capacity in England and Wales, but it is nowhere near its full potential. Locally-owned and decentralised renewable energy could be an inspiring solution for tackling the climate emergency, empowering communities and democratising energy in the UK.
How is Repowering different?
Our model provides more than low-carbon energy. We deliver a unique  programme that incorporates social, financial and educational opportunities. Plus, our projects are fully democratic and are run by Community Benefit Societies, a type of co-operative.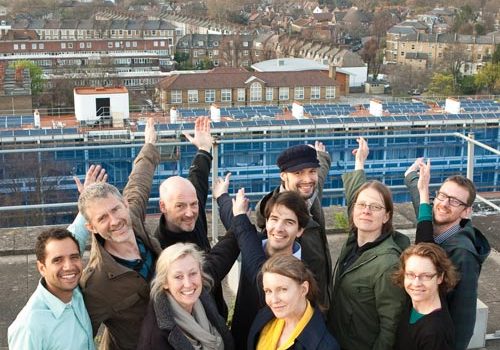 What is a community benefit society?
Community benefit societies are legal entities whose purpose is to serve the broader interests of the community. By using this model, we ensure that financial returns are locked into the local area, delivering truly local benefits.
The funds raised through the shares allows the society to buy and install renewable energy assets (such as solar panels) and provide an income stream. Shareholders receive a competitive return on their investment at 3-4% per annum. After meeting core costs and investor returns, funds are ring-fenced to be spent within the community.
Anyone can invest – residents, businesses, councils and YOU can choose to invest in the society by purchasing shares and becoming a member. The society is run by its members and a board of directors who come from the local community. Governance of the society is truly democratic as each member has one vote, regardless of the amount they invest.
Our model provides more than low-carbon energy. We are unique in delivering a social works programme. This includes fuel poverty initiatives, internships and work experience opportunities, and culminates with residents running their own community energy projects.
The programme can be separated into two phases. During the first phase, our staff works with you to develop the programme. In the second phase, the project is delivered in collaboration with the local community.